NEW ZUARI BRIDGE LEAVES COMMUTERS, LOCALS HAPPY
Times of India | 2 months ago | 26-01-2023 | 02:34 pm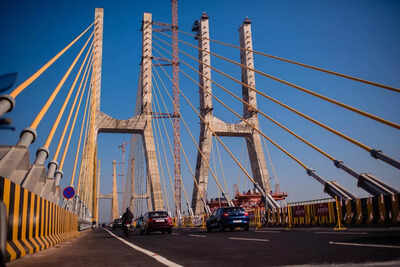 With commute time cut to half, locals anticipate stress-free travel
The new Zuari Bridge was inaugurated on December 29 and travelling between North and South Goa will never be the same again. The crucial connection over the river – which was the old Zuari bridge – was plagued by traffic snarls and was a nightmare, especially in the tourist season. But about two weeks after the new bridge was thrown open, Goa Times took a drive down the road to find pleased commuters, happy traffic cops and a general sense of ease all around.THE REAL TEST IS DURING THE MONSOONAnzil Fernandes, a lecturer who travels from Margao to Mapusa, points out that the litmus test for traffic on that stretch will be in the monsoons. "Atal Setu, which connects Panaji to Porvorim, had potholes after the monsoons. So we have to see what happens on the new Zuari bridge. I hope we don't have to go back to the old bridge," he adds.

With commute time cut to half, locals anticipate stress-free travel
WAITING IN TRAFFIC FOR YEARS IS FINALLY PAID OFFAll commuters we spoke to said that their commute time between North and South Goa had reduced substantially. Brunilda Lourenco from Curtorim says that she reaches Panaji in just 40-45 minutes, while earlier, it would take her one and a half hours or more. "I can now get that extra sleep, which makes me feel fresher at work. At night, I would reach home at 9.30 pm at times, leaving my parents worried. The feel oftravelling on the bridge is exciting," she says.Vanessa Rodrigues from Vasco travels to Panaji, where she works in the hotel industry. "I would wait for almost 2 hours or more and weekends and long holidays were the worst time. There were times I would stay over at my friend's house or take a bus so that I didn't have to drive. The road was a nightmare," she says.NO HONKING, NO POLLUTION, SAY LOCALSThe traffic jam and bottlenecks would start from Agacaim and continue till the old Zuari bridge. To avoid traffic, many would use the interior roads, which would cause more traffic jams inside the village, leaving locals to deal with the noise pollution. "I am so happy that I don't have to put up with the honking outside my house. Earlier, many taxis would take this route. The few days before the inauguration was crazy, as my 2-year-old would wake up and cry," says Katherine Fernandes, who has come to Goa from the UK for a holiday. Santana from Cortalim says all her clothes would catch the grime and dust from the passing traffic, but now things were back to normal, leaving her happy.
---